Selling my house in the winter: Am I crazy?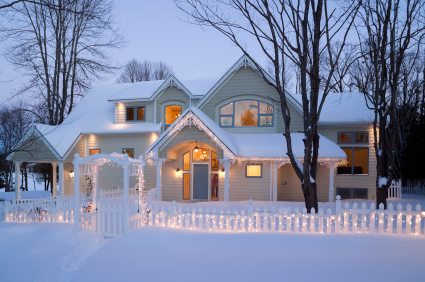 Most people think it's very hard to sell your house in the winter. And many will just wait out the storm before they list. The truth is, there can be some real advantages to putting up that "For Sale" board during the cooler months. Because you're away from the 'crazy' spring real estate frenzy, there will certainly be less competition. Perfect because big life changes (new jobs, growing family, downsizing) happen all year round.
So what are some things you can do in the winter to get your house ready?
Clean up your outside! Whatever you can't paint in the winter, you can clean up. Make sure your walkways are clear of snow and ice and your eaves troughs are clear of leaves and debris. Clean up minor repairs and cracks too. Be sure to tend to foliage and adorn that entryway with a beautiful wreath and a welcome mat.
Make a great first impression. It only takes potential buyers about 10 minutes to decide on a house. Make your home feel inviting in the winter months by having a rubber mat at the entry for wet boots and having one-size-all slippers for buyers to wear as they browse through your home. Light a few candles and turn on your fireplace. It's cold outside, you want buyers to feel warm and comfort in your home.
Give each room a warm touch.  Drape a comfy throw over the back of an armchair,  place a plump quilt at the foot of the bed and add area rugs to make a big difference in the way a room feels to prospective buyers. Also, be sure that every light is on — even for daytime showings. Winter days are dim, and your house will look its best when it's as warmly lit as possible.
With these tips in mind, your winter sale can be a breeze. (Warm breeze that is!).