Buying Your First Home – DIY Savings on Your Decor!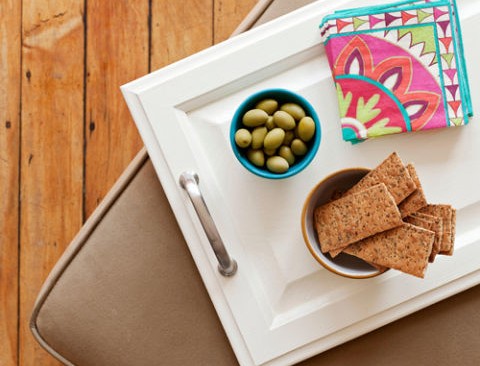 Remember back when you moved out of your parents' house? That feeling of liberation and freedom that inevitably washed over you but you know what feels more amazing? BUYING your first home!
Congratulations on entering the club of homeownership – you've taken the leap and put down a significant chunk of your finances and made a long-term commitment. But, you'll quickly discover that furnishing your new abode can do a lot more damage to your bank account.
If you're looking for ways to spruce up your new space, don't worry: You can deck out your new digs in dope decor and still stay within your budget. Let's channel your inner Martha Stewart and making DIY versions of all those stylish-yet-pricey home accents.
Take a look at the pictures below to see some budget-friendly DIY decorating ideas.
Tray Chic

Old cabinet door destined for the landfill? Don't be so closed-minded! With paint and a pair of drawer pulls, a salvaged cabinet door makes a great tray for entertaining. Fill any holes in the board with wood filler from a hardware store; let dry at least two hours. Sand and paint the surface; pre-drill holes and screw in handles of about four inches, as shown.
Clever Cover

Disposable tissue box designs tend to (pardon the pun) blow. Here's how to DIY an attractive topper that'll last: Pick up an unfinished wooden tissue box, X-acto knife, wood veneer, decoupage glue (like Mod Podge), and polyurethane from a crafts store. Coat the box with polyurethane three times (follow product instructions). Cut four two-inch-wide strips of veneer, one to fit each side of the box. Glue on strips (ours are an inch from the bottom), coating both sides of each strip with glue, as well as the entire box; let dry. For a smooth finish, add a last polyurethane coat.
Tack It On!

The upholstery tack isn't just for sofas anymore. This fabric finisher is back in fashion — and makes an inexpensive way to add pizzazz to plain pieces of wood furniture. Buy tacks from a hardware or fabric store for about $10 a pack (we used two packs in two sizes); push or tap them in along the lines of a table, bench, or chair for an eye-catching accent.
Handle with Care

Give lingerie a hamper that befits its beauty — and separates delicates from the rest of the laundry. Gather a pretty patterned pillowcase, an embroidery hoop (we used a 12-inch ring), and 10 inches of ribbon to hang. Clamp the case into the hoop, tie on a loop of ribbon to the hoop's clamp, and hang near where you disrobe.
If you're still looking for that perfect place, see how feeDuck can help you find your perfect home – and get a cash-back to boot!